Midland TS-2 Thermo Steel
Our Products
Midland TS-2 Thermo Steel
Easy on the eyes, easy on the wallet, and easy on the environment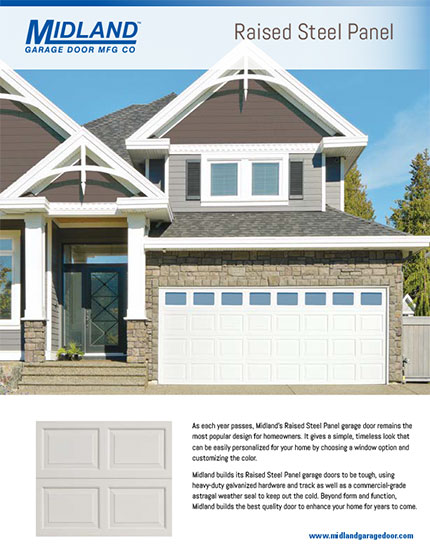 The Midland TS-2 Thermo Steel garage door is an optimal choice for those looking for one of the most structurally sound residential doors on the market. Available as a steel raised panel or flush design, these doors combine beauty, strength, and low maintenance performance.
The TS-2 steel overhead garage doors have an exceptional R-value. The 25 gauge interior and exterior steel skins surround a two inch polystyrene core and have no ozone destroying CFCs. A hardy weather strip is installed at the sill, making this an effective safeguard against the outside elements, regardless of how harsh the weather may be. This door is perfect for those cold northern winters.
Raised steel panel or flush design
25 gauge rugged steel manufacturing
Wide range of color options and window designs
Embossed pebble grain texture
Commercial grade bottom weather seal
Exceptional warranty
Let our team help you choose the option that is right for you or design your own garage door today. Our highly trained team of professionals will install your garage door at a fair price. Looking for another option? Check out our other residential garage doors:
For more information on how we can help you pick out the garage door you need, contact us! We have a wide range of doors suited for both new builds and remodels.