Midland 3" Energy Saver Doors
Our Products
Midland 3" Energy Saver Doors
Outstanding Craftsmanship and environmentally friendly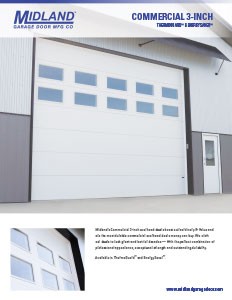 The Midland 3" Energy Saver sectional garage door is the leader in energy efficiency. With no ozone destroying CFCs, this door is the ultimate environmentally friendly option available on the market. This door is exceptionally rigid and strong and is shown to have a bonded strength several times that of standard foamed in place energy garage doors.
Pebble textured interior and exterior 25 gauge steel skins are bonded around an extruded polystyrene closed-cell foam core. 20 gauge steel exterior skins are also available. This provides a high quality, energy efficient, minimal maintenance overhead door. These doors achieved outstanding results in both field and rigid testing.
Check out our other quality energy saver options available including the 2" Energy Saver garage doors. Contact us for more information on our industrial and commercial garage door options.