Midland Commercial Ribbed Steel Doors
Our Products
Midland Commercial Ribbed Steel Doors
The type of quality you need at the price you're looking for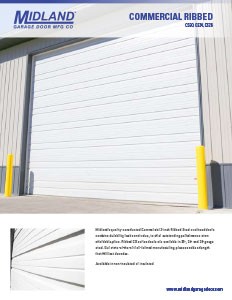 Look to Midland's commercial and industrial steel ribbed doors to provide you with the best all-around value. If you need a solid steel door this durable, high quality garage doors are perfect when you're looking for the best economical choice. They are available white, brown, and sandstone.
We offer a variety window designs on all our ribbed door selections. Insulated or non-insulated doors are an option. With a large number of design and track system options, you'll find it's easy to get the door to complement your business establishment.
When high quality is wanted but price is a factor, look to our ribbed steel overhead doors to solve your garage door needs. Contact us for more information.