Our Products
Cookson Closing Systems
Cookson AlarmGard™ Closing System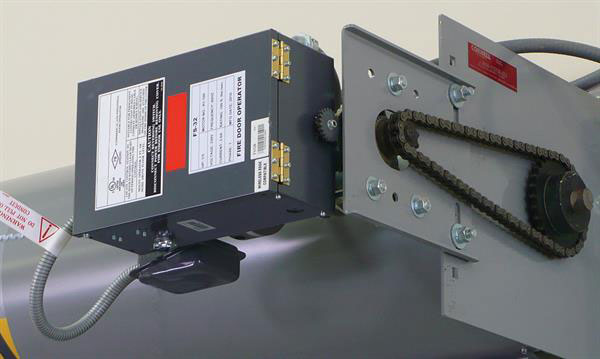 A safe and reliable choice for fire door applications
Cookson AlarmGard™ Closing Systems are a safe, reliable option for all types of fire-rated doors. This garage door opener uses an automatic reset option and works without disengaging the operator drive mechanism or releasing spring tension. Garage Door Store brings you the full line of Cookson products.
Recommended applications:
Areas prone to frequent power outages
Applications where mechanical testing of system resets are impractical
Fire-rated units in recessed applications
Fire doors in pedestrian thoroughfares
AlarmGard systems do not require connection to a separate alarm interface, fusible link release device. They are wired to activate with fire alarms, power outages and local detectors. They do not exceed 12" per second which makes them safe and controlled while closing.
Cookson AlarmGard garage door openers:
AlarmGard Manual Chain or Crank Operated Systems
AlarmGard Motor Operated Systems - Bracket Mounted
AlarmGard Tube Motor Operated Systems - for counter fire doors with or without integral frame and sill
A full line of release devices and safety accessories compatible with the AlarmGard garage opening system is also available. If you are in need of a complete garage door system, you can also check out our full line of commercial garage doors.
Contact Garage Door Store for more information. Our expert sales team will help you choose the products that fit your needs and budget requirements and our installation team will have you up and running quickly.