Expand your living space and relax in comfort!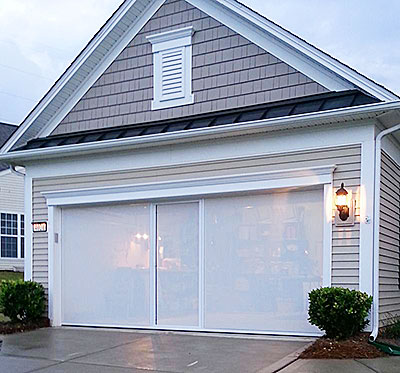 Expand your living space by opening up your garage to the great outdoors. The Lifestyle Screen gives you the all benefits of being outside without the bother of insects. Whether you're looking to have a party, create a home gym, or you just want to relax in the fresh air, trust the Garage Door Store products to help you out.
The Lifestyle Screen is a one piece, tip-up system that easily installs on your existing garage door. It is available in many sizes, screen fabrics, and frame colors to complement your home's exterior. Each screen features a pass-through door for easy access in and out of your garage or car port. An optional white privacy screen is also available.
Easy to use
Custom designs and sizes
Optional white privacy screen
Quick pest free outdoor space
For garages and carports
Affordable and built to last
We know you'll find the Lifestyle Screen easy to use. The door has a fully spring loaded, counter balanced system that fits any garage door. The maintenance free track provides for smooth, whisper quiet operation. Simply lower the screen into place and when you are done using your outdoor room, retract the screen and lower your garage door.
You can easily transform your garage into a pest free environment with any of our screen options. For more information on the Lifestyle Screen or one of our commercial options, contact us today! We'll get you set up in no time.