Create your own comfortable, pest-free outdoor living space!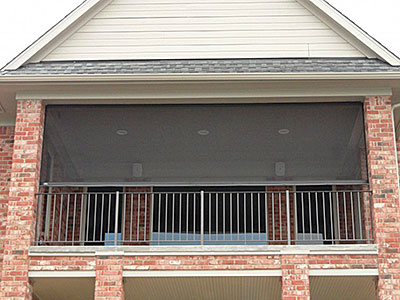 Your garage, restaurant patio or other outdoor living space can easily be made into comfortable, bug-free space with the FlyAway Retractable Screen System by DuraScreen. With the only available completely self-sealing system, you can be sure your outdoor living area will be pest and insect free for barbeques, outdoor events, or relaxing. Screens can be custom built to fit any opening and feature a concealed design for a smooth, aesthetically pleasing residential or commercial application.
Types of retractable screens:
Vinyl panels
Snap-on screens
Dual track screens
Fixed panel
Garage Door Store has a retractable screen system to suit your outdoor living and work space. They can be professionally installed or purchased as a DIY. Screens are available as either an automatic or manual design. Automatic models come with a remote control and provide quiet operation. All retractable screen systems prohibit pests, wind, and rain while allowing air flow.
For more information on FlyAway Retractable Screen Systems by DuraScreen, contact us! At Garage Door Store, we will quickly and efficiently install your new screen so that you can start enjoying the positive aspects of the outdoors without the pesky negatives.