Midland 2" Energy Saver Doors
Our Products
Midland 2" Energy Saver Doors
Where economy and energy efficiency come together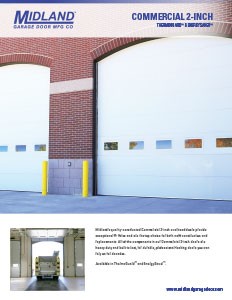 The Midland 2" Energy Saver garage door brings an environmentally friendly overhead door option to your business. These energy efficient garage doors stay strong, even under the most demanding conditions. These garage doors have 25 gauge steel skins (20 gauge is optional) bonded to both sides of a polystyrene core. When you choose Energy Saver, you can feel great about your decision because you're choosing green friendly doors with no ozone destroying CFCs.
With an R-Value of 9.25, Midland's energy saver doors combine hardy steel and insulation in a unique bonding process. Optional thermal insulated glass windows are available along with aluminum framed full vision designs. All doors have a pebble textured finish to match the aesthetics of any building. Custom builds are available to match any new construction or rebuild.
Check out our other energy saver options available including the 3" Energy Saver garage doors. Contact us for more information on our energy efficient garage doors.