Classic Panel Series Garage Doors
Our Products
Classic Panel Series Garage Doors
Combining state-of-the-art technology with classic charm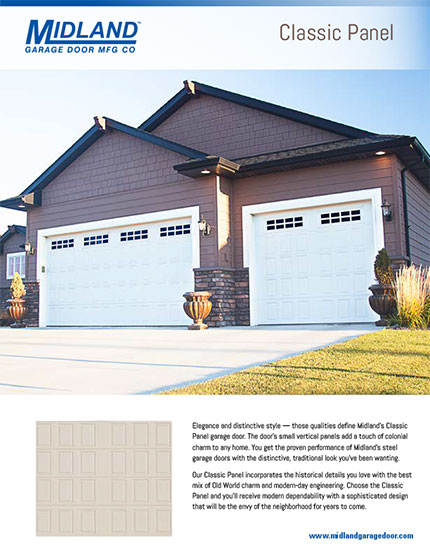 When you want that distinctive classic charm but also need the convenience of modern technology, look no further than the Midland classic panel series from Garage Door Store! These great residential garage doors are available in two high quality, energy efficient options. Bring your curb appeal up a notch with a touch of elegance and a unique design.
These doors are manufactured using rugged steel on both the hardware and 24 or 26 gauge interior and exterior skins. A wide range of color options, decorative hardware, and window designs, you're sure to find the door that best enhances the aesthetics of your home. And with the custom design option, you can create the perfect door to fit your new home or remodel.
Available in two options

2" Thermo-Steel
Series 24 (24 gauge)

Energy Efficient
Embossed pebble grain texture
Insulated or non-insulated
Decorative hardware, various color options, many window designs
Built to last a lifetime, the Classic Panel Series will bring you many years of worry-free operation with low maintenance and very little down time. Contact us at Garage Door Store for more information on these or any of our great residential garage doors. Want to see what else we have to offer? Check out some of our other great steel raised panel garage doors.